Website monitoring made easy
Add monitors with just few clicks, get instant notifications on downtime.
Powerful worldwide monitoring, short 1 minute check interval and real time notifications keep you up to date.
Why choose AdminLabs?
Unlimited users

There are no limits with users in free or paid mode. You can add as many users as needed with selected access level.

Uptime matters

Be first to know (before your customers do) when your website is down. The sooner you know your website availability is compromised, the less impact it has on your business.

Easy and fast

It's easy to add more monitors, just tell us what you want to monitor, name it, click and you're done. With one look you see the current status of your existing monitors.

Pay as you go

You only pay for what you use. On average, 6 website monitors with 2 minute interval and 8 SMS per month costs 14,19 euros. No monthly subscriptions. No commitment & risk free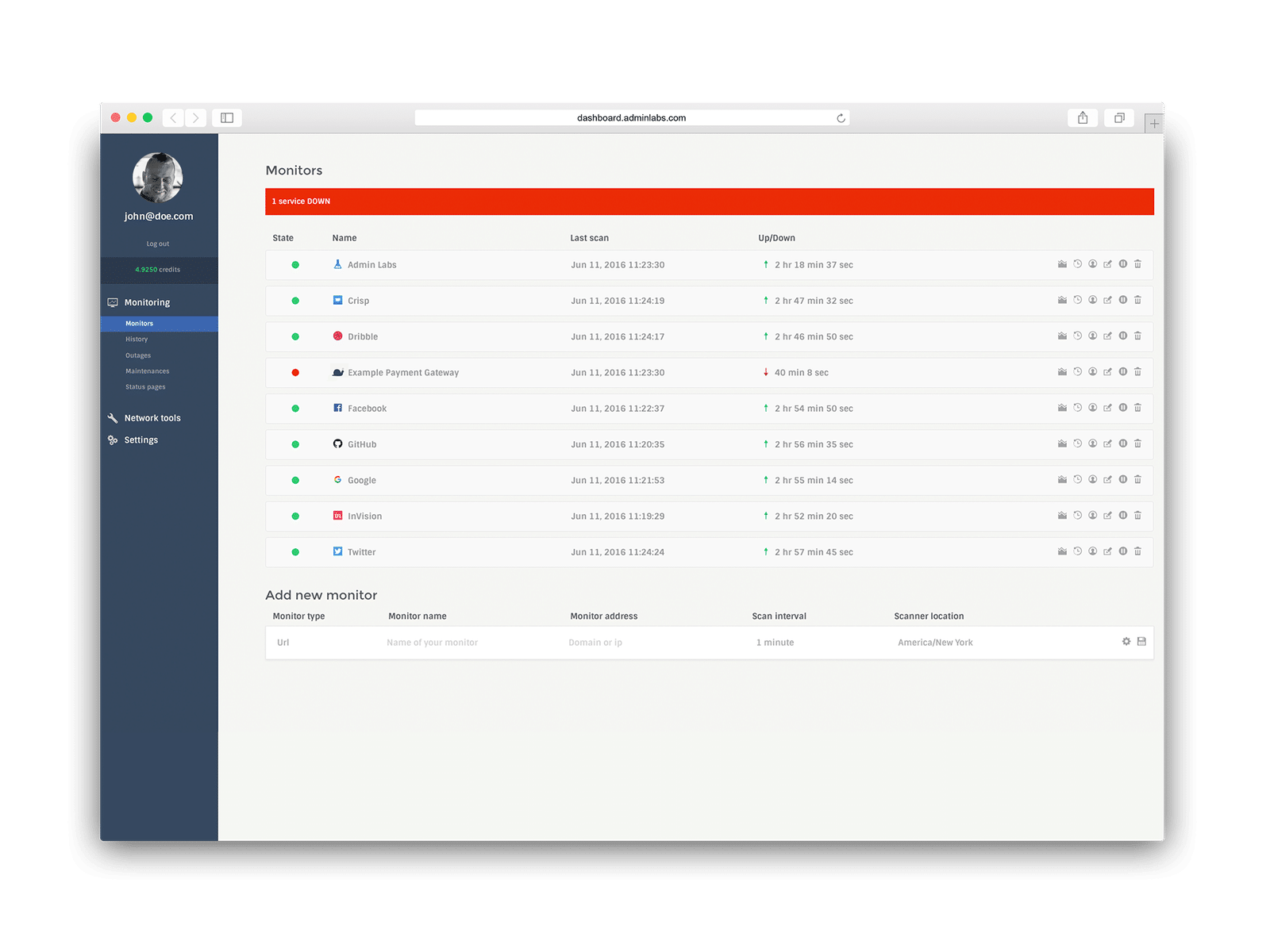 Pay only for what you use
Pricing is based on actual usage. No monthly subscriptions, no limits in scans / scan intervals. Start monitoring your website.
Hear what our users are saying
We maintain our servers by ourselves, so it is important to know as soon as possible if something goes wrong. Monitors are easy to set up and maintain and the price is reasonable considering that we get the information about problems first and unpleasant outages to our customers stay minimum.
Toni Järvelä
Sportum Oy
In our business downtime means we're in trouble. When our clients' website isn't available it also means bad things for them: lower sales, brand damage, and even lower search engine rankings. We use AdminLabs to avoid this. When downtime happens we're ready to take action before our customers even notice what's going on.
Kristian Hohkavaara
Digitoimisto Dude Oy